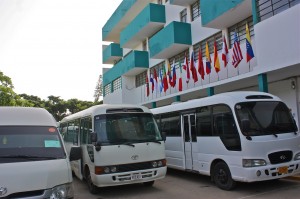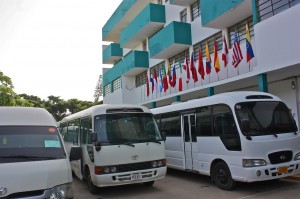 Busses are available to safely transport CIPLC students to and from school and activities.  The busses run different routes throughout Barcelona, Lechería, and Puerto La Cruz.  Please Contact Us for information on pricing and availability.
Please encourage you child to act in accordance with school rules when traveling on the busses.  The following regulations have been established for the students' safety:
Obey the instructions of the bus drivers.

Be on time at the designated bus stops. Buses will not wait more than two minutes.

Stay seated with your seat-belts fastened.

All school rules and expectations for behavior apply on the bus.

Students may not change buses, pick-up location, or drop-off locations without written permission from a parent and approval from the  administration. Any changes to a child's normal transportation schedule must be received by 12:00 noon or the change may not be approved.

Non-CIPLC students are not allowed to ride the bus to or from school.

CIPLC transportation provides a point to point service. For security reasons buses are not permitted to make unscheduled stops along their routes.